How do I add students and teachers?
Only Administrators in a School Organization are able to create accounts for students and teachers. If you are an Administrator, go to the VoiceThread Manager.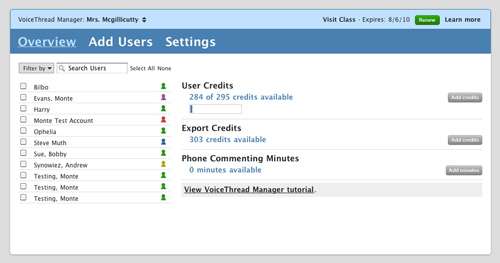 Click the Add Users tab at the top of the page. To add a single user, fill out the form on the left.
To create users' accounts in bulk, download the sample comma-separated-value (CSV) file from the right side of the page, enter all of your users' information into the spreadsheet, and then upload the .CSV file.
Remember to print the confirmation page for your records. You will not be able to see your users' passwords again, so you will have to reset their passwords individually if you forget them.
Please refer to the K-12 School Administrator Guide for more details.